Consultant Laparoscopic, Colorectal & General Surgeon in London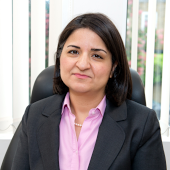 Mrs Sara Badvie is a female consultant colorectal surgeon in London who is dedicated to providing safe, high quality surgery in an environment of respectful and compassionate patient care.
She performs laparoscopic (keyhole) and open operations for general surgical conditions such as groin and abdominal hernias, along with laparoscopic and open operations for bowel conditions. She provides advice and treatment for changes in bowel habit including constipation and diarrhoea, and management of anorectal conditions such as haemorrhoids, fistulas, rectal bleeding and fissures. Mrs Badvie also performs colonoscopy, flexible sigmoidoscopy and endoscopy with advanced therapies for the removal of bowel polyps.