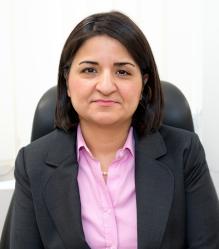 Please call for more information
Mrs Badvie was awarded a medical degree with distinction in 1999 from Guy's & St Thomas' Hospitals, University of London. During her time at medical school, she additionally won two prizes in surgery, four awards in cancer research, a national scholarship and was awarded a further immunology degree with honours.
Following a year teaching anatomy at the Royal Free and University College in London, she gained her early surgical training at Chelsea & Westminster Hospital. Interest in bowel conditions led her to research how polyps develop into bowel cancer, and how to improve measures for early detection of colorectal cancer. She gained a further three awards for her cancer research, which was published and presented to national and international societies and for which she was awarded a Master of Surgery higher degree from the University of London.
Mrs Badvie was subsequently offered a place on the highly competitive North West Thames programme of Higher Surgical Training, spanning a minimum of six years of intense training in leading hospitals across London, treating bowel and anorectal conditions along with advanced training in general operations such as hernia and gallbladder surgery using open and keyhole techniques. During her training, she was selected to teach surgical skills and how to operate safely to other surgeons training in the London Deanery.
Mrs Badvie consolidated her experiences as a resident surgical officer (RSO) at St Mark's Hospital, an internationally recognised leading UK centre for colorectal surgery, and as a senior registrar at the highly regarded Royal Marsden Hospital, operating on patients with complex colorectal disease.
Following the completion of her training, Mrs Badvie was delighted to return to her medical school to undertake a senior colorectal fellowship at St Thomas' Hospital, focusing on laparoscopic surgery and advanced colorectal disease. She incorporated a travelling fellowship to Japan to learn specialist techniques used to remove bowel polyps by international leaders in endoscopy.
Following her senior fellowships, Mrs Badvie took up a consultant position at the Royal Free London NHS Foundation Trust. In 2015, after 16 years working in the NHS, she changed her full-time NHS position to a sessional role. She is now based predominantly in the private sector, and she continues her teaching and surgical safety interests as a surgical skills trainer with Imperial College London​, leading the Colorectal Surgical Skills Programme.
International travelling fellowships